The time is ripe for some of our favorite bands and artists to make new music.
Now that 2014 has officially kicked off and we've all collectively recovered from our New Year's hangovers and broken our New Year's resolutions, we can get back to the regular cycle of our everyday lives, and focus on the stuff that will entertain us during the rest of the year! Sure, we all look forward to the summer blockbuster films, the great-escape bestseller, or the fall lineup of new TV shows; but those are still a while from now. Music, however, does not have a seasonal limit as to when it pulls out all the stops. Good music is good anytime!
For all of us music fans out there, we probably already have a list of albums we know will be released sometime this year, and consider them highlights throughout 2014. But 12 months is a long time, and no one can see that far into the future! For all the bands and artists we know have music coming our way, what about those we aren't too sure about? How about the bands who have had a new album in the works for so long that we aren't sure if we should even keep up our enthusiasm for it anymore? Or the ones who should have had something new a while ago, but seemed to have faded away without any explanation? Or those who have gone so long without making music, that we've sorta forgotten about them?
I got the idea for this blog entry from an article on the BuzzFeed website, entitled "
22 Artists Who NEED to Put Out a New Album in 2014
". While most of the entries on the list were not necessarily my type of music or anything I might have been interested in (with the exception of maybe a couple of bands); the article did light a spark for me, and got me to thinking about all the artists I liked that I hadn't heard anything new from in a while, and if they're doing anything to change this. The only common threads between their article and mine is that I will also mention with each entry how long it has been since we last heard from said band or artist, and then give you a "guesstimate" as to whether or not we have a chance of getting any new music from them this year. However, that is where the similarities end! Much as I enjoy surfing the BuzzFeed site for their funny photos and their constant nods to nostalgia, I do not think that metalheads are their core demographic; which is why I started this blog in the first place—to give attention to the kind of music that the more mainstream sites would never touch.
Looks like this has turned out to be not such a bad idea to do this write-up, because within hours of first getting started, I found some promising possibilities! I'm thinking that this list might only be of interest to me, but I do hope that there might be some mentioned here that a few of you are also excited to hear from, and that it might bring a little cheer to your day to find out that new music is just around the corner. I always like to share good news with my fellow metalheads!

Note: Please keep in mind that all information is subject to change and is current at the time of this writing. These are not predictions, nor is this "inside information" (unless a reliable source is noted!). My guesses are based on research such as checking out the band's websites and seeing how current the latest news is, or if any mention of new material has been made.

So without further ado, here is a list of the bands and artists I hope will break their silence in 2014 and bring us some long-overdue new material.
Macbeth





Most recent studio album: Superangelic Hate Bringers (2007)
This sextet from Milan, Italy has always flown just a little bit under the radar on the femme-metal panorama; partly due to the comparisons to fellow hometown goth-rockers Lacuna Coil (who have experienced massive success), and partly due to the fact that their albums are years in-between each other (such as a 4-year gap between 2001's Vanitas and 2005's Malae Artes). Definitely one of the best-kept secrets on the scene; Macbeth has always hovered right on the cusp between underground darlings and the next breakout stars in their genre. With albums like Malae Artes and Superangelic Hate Bringers, Macbeth kept moving towards a wider audience with solid material that streamlined the bombastic qualities of earlier works without compromising their dark gothic sound. But after their last album in 2007, there has been several years of silence on the Macbeth front. Could it be possible for them to still capture the recognition that was once so close within their grasp?
Possibility of new music in 2014?:
Absolutely yes! Macbeth has just recently launched their Facebook page and have revealed the artwork and title of their first album in nearly 7 years:
Neo-Gothic Propaganda
. The album will be here on February 24th. Macbeth fans rejoice!
Judas Priest
Most recent studio album:
Nostradamus
(2008)
What can I possibly say about Judas Priest that hasn't already been said? They're legends. Rob Halford is the Metal God. We all know this. Another thing we all know is that there has been some changes in the Judas Priest lineup over the last couple of years. K.K. Downing has retired, and for a while the band insisted that their Epitaph world tour would be their last one. However, there has been talk of a new studio album for a couple of years now, and as of last summer, Halford has stated that the Epitaph tour will not be the end and that Priest will continue to rock everyone's asses off. The band has said that the new album will "be ready when it's ready", but it's been nearly 6 years since they last released new material. Whenever it does happen, it will be the first new album featuring guitarist Richie Faulkner, so it will be interesting to hear the new dynamic on record, considering how well things have gone in a live setting thus far.
Possibility of new music in 2014?:
It's practically a sure thing; the band released a short Christmas message to their fans at the end of 2013, announcing that the new album would be released "sometime in 2014". When exactly that will be is still not definite yet, but fans have a window of time to work with now.
Psychotic Waltz
Most recent studio album: Bleeding (1996)
Fusing together the sounds of progressive metal and psychedelic rock, San Diego-based Psychotic Waltz was ahead of their time; striking a path that countless prog and power-metal bands have traveled down since. However, despite their contributions to the genre, Psychotic Waltz are still relatively unknown by the vast majority of metal fans. Perhaps it was because their following was predominantly in Europe. Or maybe it was because the band's demise came just as they were gaining momentum; first with their acclaimed third album Mosquito, and then opening for fellow prog-metal heavy-hitters Dream Theater. The band still recorded one last album, Bleeding, but by then Psychotic Waltz was all but over. Each bandmember went on to do their own thing musically—notably, singer Devon Graves' band Deadsoul Tribe in the 2000s—but nothing quite compared to the magic of Psychotic Waltz. So when the band reunited in early 2012 after over 15 years, fans were ecstatic that a new album might not be far behind. Their website hinted that they were hard at work on new material that could possibly see the light of day in late 2013; but here we are in 2014, and still no new album in sight.
Possibility of new music in 2014?: The probability is very high; Psychotic Waltz drummer Norm Leggio recently posted on the band's official Facebook page on New Year's Eve, saying that while he knows "things have been quiet" as of late, they have been "working diligently" on the new record. However, it does not say how soon we might get to hear this new music. While all signs point to the possibility of a return from Psychotic Waltz happening this year, fans will probably breathe a lot easier once they have an actual release date to look forward to.
Seventh Wonder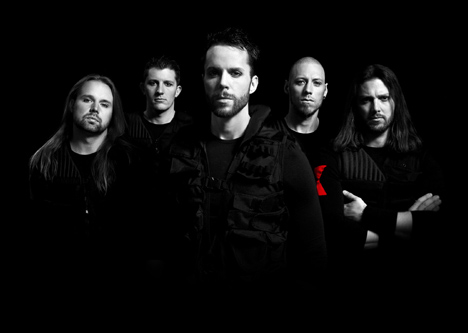 Most recent studio album: The Great Escape (2010)
Even though Swedish prog-metallers Seventh Wonder have been around for over a decade, they have practically become an overnight sensation ever since vocalist Tommy Karevik was hired by Kamelot to take over for departed frontman Roy Khan. Since then, many Kamelot fans who were won over by Tommy's voice have since felt inclined to dig deeper into his past material and unearth the hidden gem that is Seventh Wonder. It has been somewhat of a double-edged sword for the band, however; in the one respect, Tommy's new role as Kamelot vocalist has brought Seventh Wonder a bigger audience and therefore greater anticipation for a new album. Yet on the same token, pulling double duty for two bands has meant that the new Seventh Wonder album is taking a little longer to get here than previously expected. Couple that with the band's commitment to perform their concept album Mercy Falls in its entirety at the ProgPower USA festival later this year, and you've got some pretty formidable roadblocks that might very well push back a new album even further down the calendar.
Possibility of new music in 2014?:
So far, it looks like an even 50-50 chance. The band has played some snippets of new material on their YouTube channel, but they have also made it a point not to reveal too much too soon. Between Tommy's busy schedule with Kamelot (whose
Silverthorn
tour will be starting back up again shortly), and the Seventh Wonder rehearsals for ProgPower, it's easy to understand how new music can get delayed until after these prior engagements are seen through. However, the band has hinted numerous times on their Facebook page that 2014 will be full of surprises; so at this point it's anyone's guess as to whether or not we'll get a new Seventh Wonder album in 2014. Both possibilities seem equally likely at the moment.
Vibeke Stene
Most recent studio album:
Illumination
(with Tristania) (2007)
One of the most gifted voices on the gothic/symphonic femme-metal scene, most fans were perplexed by how Tristania vocalist Vibeke Stene seemed to just walk away from it all by leaving music and becoming a schoolteacher in her native Norway. Among the originators in the genre of merging operatic vocals with the dark sounds of metal, Vibeke was a well-respected and beloved figure on the scene and it felt like such an injustice to her talent that a voice like hers would not be heard in some capacity. While Vibeke has done a guest appearance here and there (nothing of which could be considered even close to the kind of music she is best known for), she has stayed out of music since leaving Tristania for the most part. Tristania has since moved on with a new singer, and Vibeke never expressed any desire of wanting to return to music full-time. But in early 2013, it was announced that Vibeke was back! Well, sort of...
Possibility of new music in 2014?:
This is one of those that can be answered with both a "yes" and a "no". Yes, in that she will be appearing on the upcoming God of Atheists album; but no, in that it doesn't appear to be a permanent gig. However, over the last year, Vibeke has opened a Facebook page and while at this time it seems mostly to be just for God of Atheists news, it seems a bit redundant that she would open a Facebook page only for that when the band already has a place of their own to post the same news. Maybe it's just fans getting their hopes up, but perhaps Vibeke is "testing the waters" to see if the time is right for a solo project, or forming a band of her own? At any rate, we will get to hear her voice again
somewhere
this year, and that in itself is good news! Whether or not she will take that as a cue to make a full-blown comeback has yet to be seen.
Slayer
Most recent studio album:
World Painted Blood
(2009)
Considered one of the "Big 4" founding fathers of thrash metal, Slayer has a long reputation of kicking ass. However, things have not been so well in Slayer camp over the last year or so. With the untimely passing of guitarist Jeff Hanneman, and another departure from drummer Dave Lombardo, Slayer has had to regroup and reassess their storied legacy. Now that Gary Holt from Exodus (who has been filling in for Jeff over the last couple of years) and former drummer Paul Bostaph are now official bandmembers, now seems as good a time as any for Slayer to come back and start kicking some ass again.
Possibility of new music in 2014?:
Maybe so, maybe no. The band has said for the last couple of years that they are working on new material; but understandably, Jeff's illness pushed the process back quite a bit. Their Wikipedia page suggests that the upcoming album will feature songs that were written by Jeff before his passing, but there is no tentative release date for an album. The band's official webpage shows some tour dates for some festivals this summer, but so far there is no mention of a new album on the way. Much as it would be great to hear new music from Slayer this year, it's also to be expected that the new lineup needs an adjustment period so that they can come back with some awesome music. I suppose this can be answered at this time with no more than a "we'll see".
Battlelore
Most recent studio album:
Doombound
(2011)
While the works of J.R.R. Tolkien and metal music have gone hand-in-hand for decades, only one band has dared to step it up a notch and infuse Tolkien into their entire metal identity: Battlelore; where the women are dressed like Elvish maids, and the men are clad in full Middle-Earth warrior regalia. This band from Finland made a career out of paying tribute to the master of fantasy; crafting songs that were not so much unlike an elvish lay: making the world of Tolkien appear before your eyes through the music they wrote. For over a decade, Battlelore released albums on a consistent basis that took us back to Middle-Earth time and time again. Then shortly after their 2011 album
Doombound
, announced that they would be taking an extended hiatus for an unknown amount of time. Many fans hoped that with the release of
The Hobbit
trilogy of movies beginning towards the end of 2012, that it might somehow prompt the band to make a return; but news from Battlelore camp has been about as hard to track as the footprints of hobbits among a raiding band of Orcs.
Possibility of new music in 2014?:
It doesn't seem very likely right now. While Battlelore has not been much about giving news, they certainly know how to tease their fans at the same time. They post every now and then on their Facebook page, dropping hints that could be taken as a sign that they are ready to come out of hiding. However, that's as far as the information goes. The odds of a new album happening this year are not too high, but 2014 has just started, and Battlelore still has months ahead to surprise us all.
Flowing Tears
Most recent studio album:
Thy Kingdom Gone
(2008)
German goth-metal outfit Flowing Tears has been in existence since the mid-'90s, back when they were known by the longer name of Flowing Tears & Withered Flowers, and had a male singer. But by the late '90s they shortened their name, recruited a female singer, and started getting noticed on the scene with albums like
Jade
and
Serpentine
. With the addition of vocalist Helen Vogt in 2003, Flowing Tears incorporated a more rock-oriented sound with 2004's
Razorbliss
. Their 2008 concept album
Thy Kingdom Gone
was a high creative point for the band that showcased their potential like never before. However, what should have heralded an impetus for further productivity has instead appeared to be an artistic plateau that has not borne any new fruit.
Possibility of new music in 2014?:
The prospects are slim to none; the band's website has not been updated since 2009 and the closest thing they have to "social media" is a MySpace page, which seems terribly outdated even for 2009! While there is no information anywhere that suggests that Flowing Tears has called it quits, there is also nothing out there that indicates any movement within the band either; which is a shame, because this is a band who should be making music. I hope they will again someday, but it doesn't appear to be happening anytime in 2014.
Disturbed
Most recent studio album:
Asylum
(2010)
Probably the most mainstream of the bands on this list, Disturbed has oftentimes unfairly been lumped into the "nu-metal" genre; but personally I have always found them to have quite a melodic sensibility and are among some of the best that modern American hard rock has had to offer over the last decade. After releasing a slew of albums over a ten-year period, Disturbed decided to take a hiatus in 2011, which they are still on at the time of this writing.
Possibility of new music in 2014?:
Highly unlikely. The most recent update to the official Disturbed webpage was dated in April 2013, and that was to announce the side project of guitarist Dan Donegan and drummer Mike Wengren, called Fight or Flight. Bassist John Moyer has recently played some live shows with Geoff Tate's band, filling in for Rudy Sarzo. Lastly, vocalist David Draiman has been juggling both his new band, Device; and his newest role as father to a baby boy, born in late 2013. While Disturbed has made it clear that they have not disbanded, they also do not seem to be in a hurry to end their open-ended break. Most likely a new Disturbed album is in our future, just probably not this year.
Dalbello
Most recent studio album:
Whore
(1996)
While most of you have probably never heard of Dalbello by name, chances are you have heard her music or her voice somewhere; either covered by bands like Heart or Queensrÿche, or one of the many songs she has written for countless artists from Julian Lennon to Patti LaBelle. Or maybe some of you would recognize her better by her role as Queen Nehelenia in the English version of the hit anime series
Sailor Moon
. At any rate, whatever you do know of Dalbello, it is likely not from the handful of albums she has released, and more from the music she has done with others, or through her voice-over and commercial work in her native Canada. An active songwriter and session vocalist, she is always working; but "prolific" is not a term that can exactly apply to the output of her own original material. Once deemed the "Canadian Kate Bush", Dalbello's music was avant-garde and would sound ahead of its time even today. This may be a huge reason why, in spite of her undeniable talent, mainstream recognition in the U.S. has always seemed to elude her. One thing many Dalbello fans can agree on is that the only bad thing about her music is that there is too little of it!
Possibility of new music in 2014?:
How shall I say this nicely? I think we have a greater chance of hell freezing over than we do of getting a new Dalbello album anytime soon, let alone in 2014. Put it this way: if her last studio album was a newborn baby, that child would be getting ready to graduate from high school this year. That's how long it's been since Dalbello has recorded an album. The most recent "new music" she has recorded were three 30-second songs back in 2011 that ended up as commercial jingles for a steakhouse franchise in North America. Needless to say, it appears that her session and voice-over work are where her interests lie these days. Recently, Dalbello appeared on Canadian television to talk a little about her musical past; but she made no mention as to whether she would like to make a new album or if there might be one in the foreseeable future.
Chris DeGarmo
Most recent studio album:
Microfish
(with Spys 4 Darwin) (2000)
The ex-guitarist and one of the main songwriters of Queensrÿche, Chris DeGarmo crafted the band's signature sound and wrote many songs that have become fan favorites; namely the band's mega-hit "Silent Lucidity" in the early '90s. His seemingly abrupt departure from the band in the late '90s left many fans shocked and bewildered, even to this day. Rumors have abounded as to why he left the band, but considering that DeGarmo has remained silent on the subject, it's all just speculation. With the exception of forming the "supergroup" Spys 4 Darwin with members of Alice in Chains and Sponge back in the early 2000s, DeGarmo has pretty much dropped out of the public eye and has limited his musical contributions to the occasional songwriting collaboration here and there (such as with the band Dredg in the mid-'00s, and more recently with his daughter, who appears to be starting a musical career of her own). However, not since David Lee Roth has a band's fanbase begged for the return of an ex-bandmember more than Rÿchers have longed for a return from Chris DeGarmo. Even after over 15 years since his departure, people still ask what he's up to or if he will ever come back to Queensrÿche; especially now that the band has been split into two camps, and many fans feel that DeGarmo is the wild card that could ultimately spell success or failure for whichever side of the fence he cares to stand on in the matter.
Possibility of new music in 2014?:
While I do not claim to have a crystal ball on this one, I think it's safe to say that the answer is no. However, that does not stop fans for hoping either for some sort of collaboration with the "real" Queensrÿche (i.e., the "Rising West" version) on their next album, or maybe a one-time onstage performance with them. I admit I am one of these fans too. Not only is DeGarmo one of my favorite musicians, but one of my biggest influences as a writer; so hell yes, I would love to hear new music from him someday, even if it isn't with Queensrÿche. I also have to admit that the Dredg stuff did nothing for me, and I would have preferred a solo album or something that was more "him" and not integrating himself into another band's dynamic. I also think it's cool as hell that he's writing songs with his daughter and it seems as far as talent goes, the apple doesn't far fall from the tree. Still, all that being said, I will continue to hope with all my might that someday we will hear new music from him again in some way. I doubt he would ever read this blog, but if anyone wants to pass along the message: now that fans can rejoice over Queensrÿche making a return, all that's missing is Chris DeGarmo. Come back to music, Chris. We miss you. Or at least, I do.
_________________________________________________________________________________
OK, so that was great fun listing all the various bands and artists that I hope will make new music this year. While a couple of them were long-shots, still others were a sure thing, and looking forward to new music from someone you haven't heard from in a while is always a treat.
I realize there are probably a shitload of other bands that I could have put on this list; some that are more well-known or others I may have just plain forgotten to mention (because that's how long it's been since they've made any new music!). In fact, the BuzzFeed article I got the idea for this blog entry from mentioned at least 3 bands/artists I would love to hear new music from this year; but I did not exactly want to echo their sentiments and make my version of this sort of article redundant. My goal for this blog is to always focus on music that does not get a lot of attention on the more mainstream sites. I'd like to hope that for those of you who read this, you will feel inclined to seek out some of the bands on this list, since I'm willing to bet that very few of you have heard of every single entry on this list!
As far as the many other entries that could have made this list...well, that is what the comments section is for. Who do you think I missed, or what bands need to grace your playlists with something new? I always like hearing from you and I always love to receive suggestions for new music to check out. Until next time!
*Special thanks to Bill for suggesting the title for this blog entry.